Introducing Scotney Castle
Scotney Castle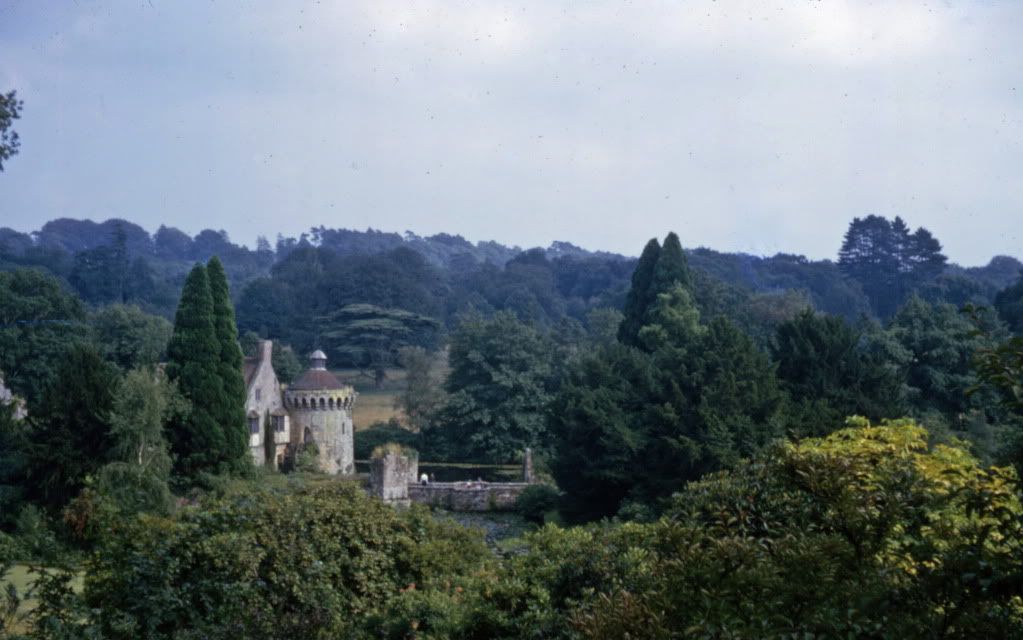 Scotney Castle is located southeast of Lamberhurst in the valley of the River Bewl in Kent, England. There are no massive walls and no imposing buildings, so it is not everyone's idea of a traditional medieval castle; and, it is hard to imagine chivalrous knights doing battle in its environs.
But, present day Scotney Castle is a beautiful rambling estate comprising a magnificent Victorian country house (sometimes called Scotney New Castle) and the ruins of what was once a late medieval fortified manor house (Scotney Old Castle) that is on an island on a small lake surrounded by sloping, wooded gardens.
History
The earliest clear record of ownership of the Scotney site dates back to 1137 when it was owned by one Lambert de Scoteni. It remained in the possession of the de Scoteni family until the 1350s, even after one of Lambert's descendants, Walter de Scoteni, was hanged in Winchester in 1259 for poisoning Richard, Earl of Gloucester, and his brother, William de Clare (who subsequently died).
In the 1350s, the estate passed to the Ashburnham family of Ashburnham in Sussex who built the first "castle" around 1358 (some sources say 1378). In its original form, Scotney Castle was rhomboid in shape with circular towers at each corner and was most probably no more than a manor house, but with continuing hostilities with the French and incursions by French raiders, Roger Ashburnham, a Conservator of the Peace, is believed to have received permission from Richard II to fortify the property.
At some time in the 15th century, Henry Chicheley (c1364 to 1443), Archbishop of Canterbury, became the owner of Scotney. He is believed to have resided there until he presented it to his niece on her marriage to John Darrell.
By 1550 only the south tower remained and, in 1580, a new wing constructed of brick and stone with a timber-framed upper storey was added to it. The new addition included a staircase and priest holes, common in the homes of prominent Catholic families and used to hide priests and Catholic vestments from the authorities, Catholicism then being outlawed.
The owner at that time was Thomas Darrell, a Catholic who, from 1591 to 1598, allowed Richard Blount, a Catholic priest, to minister to the local community from Scotney. Blount had trained in Rome and was ordained a priest in 1589. Two years later, he sneaked back into England disguised as a returning prisoner-of-war sailor and began working from Scotney. He managed to evade two attempts by the authorities to capture him; the first time they gave up after a week after Blount's companion surrendered, and the second time Blount took advantage of foul weather to escape over a wall and into the moat. Later, in 1608, Blount was to enter the Society of Jesus and become a Jesuit after taking the Four Vows of the Order.
In 1630, the east range of the castle was rebuilt following the style of Inigo Jones, the first major British architect to bring Italianate Renaissance architecture to England. At three stories high the new structure was much larger than the remaining medieval and Elizabethan structures.
John Richards of Robertsbridge bought Scotney in 1724 but, in 1778, sold it and the adjoining farm to Edward Hussey. His grandson, another Edward Hussey, commissioned architect Anthony Salvin, renowned for restoring medieval castles and country houses, to design a new country house in the Elizabethan style and in 1837 the first stones of new manor house were laid. The new house was built from sandstone quarried from the slope below, which is now a fine quarry garden and even has a 100 million year old footprint of an iguanodon. It was finished in 1843, the old buildings of the east wing being dismantled leaving only the most interesting features as a garden curio. Today, only the south tower and four gatehouse piers remain of the original structure.
Scotney remained in the hands of the Hussey family until it was taken over by the National trust in 1970, although the "new castle" was not opened to the public until 2007, the year following the death of its last resident, Elizabeth Hussey.
Scotney's ghost
Scotney, like all good castles, is reputed to be haunted. In the 18th Century, it was occupied by Arthur Darrell until he fled after being outlawed for smuggling. It is said that Darrel died abroad and that, in 1720, his body was returned home for burial. According to rumour, however, Darrell had faked his death so that he could continue his nefarious activities free from the attentions of the law. This rumour gained credence in 1924 when Darrell's coffin was opened and found to contain only stones.
Darrell's secret is said to have been discovered by a Revenue Officer. Darrell silenced him by killing him and throwing his weighted body into the moat. It is from the moat that a ghostly dripping figure is sometimes seen emerging today.
Well worth a visit
Designated as one of the "Seven Wonders of the Weald", the site of Scotney Castle is well worth a visit. New Scotney Castle is a fine example of a Victorian manor house, while the old castle with its lakeside setting and beautiful gardens hold untold delights for every garden lover – just make sure that you avoid the ghost.