What Are Your Choices for Bar Mitzvah Party Favors?
Bar Mitzvah party favors are a modern phenomenon and one more thing for the party parents to plan and have ready on the big day. Years ago, if a party favor was offered, it was a package of Jordan almonds wrapped in tulle. Today, that is not the case.
Parents like to have their gifts to their guests tie in with the party theme. This can be done with a logo or saying unique to the child being honored.
Tee Shirts and Sweatshirts
Tee shirts and sweatshirts are one of the most popular favors given out to guests. They are easy to order, easy to size, and most kids like to wear them to school the following Monday to show everyone they were at the party.
The tee shirts can be any style-skinny, loose style, long-sleeved, short sleeved. They can also be any color you choose. Many parents select a tee shirt or sweat shirt that matches the color scheme.
For sweatshirts, you need to choose the style. Will it be a zipper front? A hoodie? A pullover? Another decision that needs to be made is how big to make the logo and where to place it. On the front, on the back or both? Will that cost extra?
Other decisions that need to be made are:
Will there be a picture?
How to spell out the date, with numbers or words?Your child's monogram or child's name?
How many different sizes to order for the guests?
Does the company wrap and label the shirts for you?
Sweatpants, Boxer shorts, Fleece Pants
Another option are bottoms-sweatpants, boxer shorts, or fleece pants. The same questions for tee shirts and sweatshirts apply here. Getting sizing right for bottoms is trickier than with shirts and sweatshirts. Big shirts look big and can still be worn. Big pants cannot be worn and will simply sit in a drawer.
Food
There are many Bar Mitzvah party favors that are consumable. Online vendors sell a variety of favors that will not break the bank.
Personalized candy bars and mint tins with the child's name and picture on it are popular and easy to find choices. Bottles of water with personalized labels and candy rolls are also finding their way into popularity. A keychain with breath mints is a favor that will last long after the party is over.
Credit: amazon.com
Drinkware
There are online stores that will personalize drink ware for you. Mugs and glasses are popular options, as well as collapsible cups.
Nylon Bags
Another popular choice are nylon drawstring bags. Teens on the go like having a lightweight
bag to carry their things in.
Novelties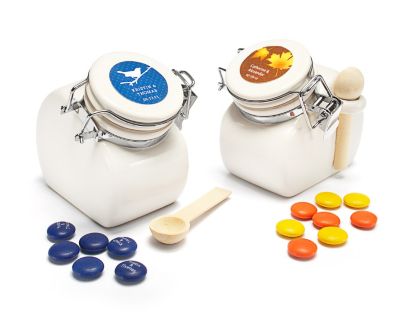 Credit: amazon.com
There are a great assortment of novelties that can be used as gifts for your guests. You can hand out
customized playing cards or CDs of music you downloaded that fit the theme. You can order small drawstring satin bags and fill them with candy or let the children keep their giveaways in them.
No matter what party favors you choose, it is sure to be a hit with your guests!