If you are looking for the best starter motorcycle for women, you have come to the right place. If you are a woman looking to jump into the fast and fun world of motorcycling, one of the biggest decisions will be; Which Bike? Motorcycles come in all different shapes and sizes, and for a beginner, this can be quite overwhelming. This article will help you decide which bike is the best starter motorcycle for women. We will go over some basic safety precautions as well as some recommended gear as well. So, let's get started on our quest to find the best starter motorcycle for women.
Take The MSF Safety Course: The motorcycle safety foundation provides safety classes free of charge in all 50 states. If you are a beginner rider, this is where you should start. Before you look at bikes, helmets, leathers, boots or gloves, do your research here and sign up for a course. Riders who have successfully completed this course are statistically far less likely to be involve in a fatal motorcycle accident. This is a good thing. Oh, and you will get to walk away with your Class M license designation if you pass the test at the end of the course. Not too shabby for a free service, huh? Before you start why don't you browse some helmet options, Arai is the best of the best.
Bike Basics: A beginner to the motorcycle world may be intimidated walking into a motorcycle dealership. This is natural. There are a lot of terms that are thrown around in the world of biking that make no sense to a person outside of this realm. So let's take a quick run through some basic terms you should understand. "CC" The standard designation when people talk about motorcycle engine size is the CC or Cubic Centimeter. For a starter motorcycle, 250 CC's is plenty of power. For your reference, 1000 CC's is roughly equal to a 1.0 liter engine (a term you may be more familiar with). Sport Bikes vs. Cruisers – The two most popular types of motorcycles are the sports and the cruisers. When you hear cruisers, think Harleys, when you hear sport bikes, think race tracks and guys flying by you crouched over their gas tanks at 140mph on the freeway. There is another class of motorcycles which are called Supermoto or Dual Purpose. These combine offroad capabilities with an on road temperament. So, now you have enough info to talk the talk with the dealership folks.
Best Starter Bikes For Women: When looking for the best starter motorcycles for women, you want to find something that is light, forgiving and comfortable. These are more or less the same characteristics that we would look for in starter bikes for men as well just FYI. So I'm sure you're wondering which bikes fit this mold? Well it isn't too difficult to narrow the list down. The bikes should be either a cruiser or sport type, with an engine size of 250cc and preferably electronic fuel injection. Beginners shouldn't have to mess with carburetors, they are a big pain.
Bikes We Recommend:
Cruiser Style: Suzuki GZ250
MSRP: $3,499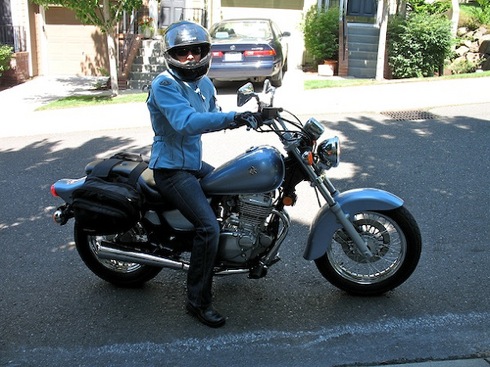 If you followed rule number one, and took the free MSF safety course, then you may already be familiar with this model, it is the number one bike used across the nation for the course. What a great opportunity to learn about your first bike, huh? The bike is light, maneuverable and a lot of fun to ride. It will provide you with ample opportunity to go fast and stop fast, without the inherent dangers of huge brakes and huge engines which can cause big problems for the beginner.
Sport Style: Kawasaki Ninja 250
MSRP: $4,000
Let's say the cruiser world seems a bit too mature for you at this point. You want something that looks fast standing still. Ok, I hear you. You're in luck, just because the Ninja 250 looks like it's flying by at 100mph standing still, it's powered by a 250cc motor so it will forgive you if you make a mistake on the throttle. The bike's 2011 and 2012 redesign have made it as visually appealing as its supersport brethren in the 600cc and up engine range. The resale value on these has always been great too.
Super Moto/Dual Purpose: Yamaha TW200
MSRP: $4,500
This cool looking big tired bike is a great alternative if you want something outside of the norm. Most riders start with a cruiser or sport bike, and then bounce back and forth between them for the rest of their riding careers. This bike will get you started in a place where most riders never end up, dual purpose land. This bike can devour the pavement and the dirt, and provide you with all of the perks of a graduated learning curve. If you like the look and the idea of being different, give this bike a shot.
Any questions concerning the best starter motorcycle for women after reading this article? Leave them in the comments section below!