While collecting coins in general is a fun and exciting hobby, collecting quarters specifically is great for beginners as an introduction to the hobby. Collecting quarters is great for beginners because instead of looking for dates, errors, or other minutiae, which can be time-consuming and daunting to a new collector, quarters offer you an opportunity to grab different and beautifully designed quarters thanks to the Statehood, U.S. Territory, and America the Beautiful Quarter Programs. Further, these quarters are readily accessible in circulation (pocket change and bank rolled coins).
Each Program presents its own unique draws, fans, and investment opportunities. And each Program consists of two sets; one set from the Philadelphia Mint, and a second set from the Denver Mint, as both mints make the quarters.
For a brief explanation of Mint marks and other collecting tips and information see my article Start Coin Collecting.
Statehood Quarters
In 1999, the Congress passed legislation starting the Statehood Quarter Program, and every year since the Mint released five new quarters, and each new quarter depicted a different state on the back. The program ran through 2008, concluding after a quarter depicting each of the 50 states was released into circulation.[791]
Statehood Quarters are easy to collect because they are easy to find, most are available in pocket change and bank rolls. I went to the bank and bought a box of quarters, which contains $500 in quarters, and I completed a set of Philadelphia minted Statehood Quarters from that one box. And I came close to completing a set from the Denver Mint too! So, these quarters are plentiful; however, finding some state and mint (Philadelphia or Denver) combinations may provide more of a challenge. For instance, I need an Illinois, Denver minted quarter to complete my Denver Mint set.
The Statehood Quarters are widely available because they were minted in large quantities. From 1998-2008 the Philadelphia and Denver Mints, combined, released five states per year and each year the total number of Statehood Quarters released ranged from 2 billion to 5 billion.[791] That is a lot of coin!
Therefore, Statehood Quarters provide a great opportunity for novice or beginner collectors because they are easy to find, fun to look for, and beautiful to look at. Store and display them in this hard cover Collector Map designed specifically for the Statehood Quarters! Plenty of quarters are still available, and because there are 100 possible quarters to collect (50 from Philadelphia and 50 from Denver) there is enough of a challenge so as not to make it pointlessly easy. As I said, I buy boxes of quarters from time to time and the Illinois D-mint still eludes me!
US Territory Quarters
Once the Statehood Quarter program was completed, the Mint introduced U.S. Territory Quarters in 2009. This program lasted only one year, and the territories released were: Washington D.C.; Puerto Rico; Guam; American Samoa; and the Northern Mariana Islands.[791]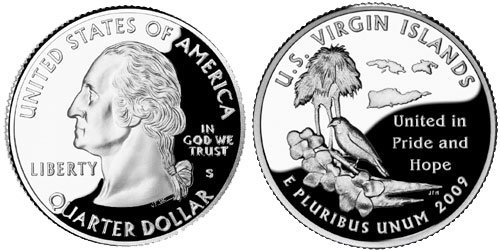 These beautiful quarters are harder to find in circulation than the Statehood Quarters, but there are only 5 needed to complete the set (10 if you are collecting both mints) instead of 50 (or 100). The territory quarters are harder to find because the mints did not produce as many as the state quarters. During 2009, the Philadelphia and Denver Mints only released a combined total of 636 million territory quarters (as compared with the 2-4 billion state quarters released per year).[791] But you can still find them in circulation, they are just not as plentiful as the Statehood Quarters. Because so few were minted, they have an investment quality that the Statehood Quarters don't. Years from now, the Territory Quarters will be scarce to non-existent in circulation making the ones you save now much more valuable than their face value (this is my opinion of course).
America the Beautiful Quarters
Because the Statehood Quarter program was so popular, Congress decided to start the America the Beautiful Quarter program. Similar to the Statehood Quarters, this program began releasing five new quarters each year starting in 2010 and will continue to do so until 2021.[790] But, the number of America the Beautiful Quartes released each year will be significantly less than the number of state quarters released and so, like the Territory quarters, they make for a great investment collection.
In 2010, the mints, combined, released only 278 million America the Beautiful Quarters (as compared to 636 million territory quarters and 2-4 billion state quarters).[790] Therefore, I am excited about the prospect of collecting all of them as they are released. Collectors have a unique advantage of getting these quarters in pristine condition because the quarters can be collected as they are released. which will only help their value later on.
As only 8 of the quarters have been released so far, it's not too late to catch up! The quarters already released can be found in circulation, but don't wait too long because they are going to be harder and harder to find as collectors pluck them out of circulation and drop them into their own collections.
Summary
Quarters are great for novice and beginner collectors because the Statehood, Territory, and America the Beautiful programs make collectible quarters easy to identify and they are still, for the most part, widely available in circulation. Further, these collections look great displayed and have the potential to mature into a valuable investment years down the road.