Princess Merida Costumes from Disney's Brave
There's a new princess on the Disney block, and her name is Merida. She's no "please prince, save me from evil" kind of princess like Cinderella, Sleeping Beauty and Ariel. In the spirit of the great Disney warrior Mulan (who is NOT a princess no matter how hard they try to sell her as one), Princess Merida defies her parents wishes and sets out to find her own fate.
This joint effort from Disney and Pixar Studios is their thirteenth collaboration. As with any Disney character, there are different Merida Halloween costumes and accessories from the movie, Brave.
The story of Brave takes places in the ancient Scottish Highlands. Because Princess Merida does not want to do what her parents ask her to, she unknowingly unleashes a curse upon the kingdom. She must use her archery skills, her bravery and her intelligence to correct what she has done…or else.
This vivacious heroine is sure to be popular with girls across age levels. With flowing curly red locks and an attitude to match, Merida redefines what it means to be a Disney princess.
Brave Halloween Costumes
Credit: www.shindigz.com

This Princess Merida costume comes in sizes starting at extra-small (size four) and goes up to size large. At the center of the neck is a Merida cameo with jewel accents and a flower that dangles from it. The bodice is made of velour and has gold dots that glitter. There is gold trim throughout the costume, and the skirt has three layers of satin and mesh. It will surely keep your princess's legs warm on a chilly October night.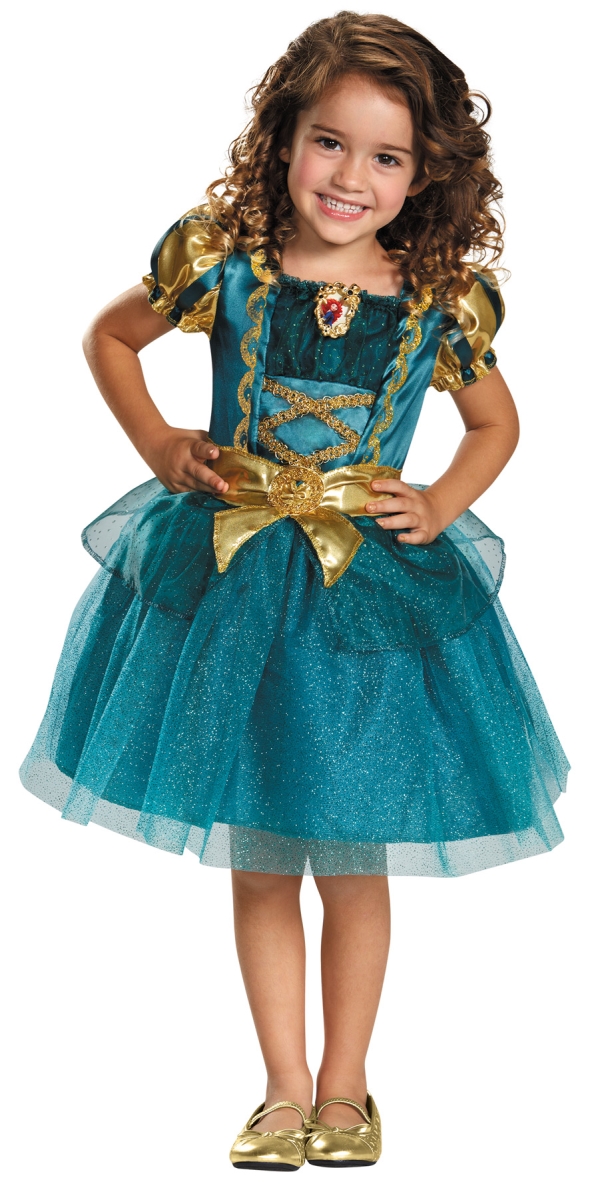 Credit: www.shindigz.com
Here is another version of a Merida costume that is a bit more frilly.
Brave Costume Accessories

Here are some additional accessories to create the perfect Princess Merida costume.

Princess Merida Wig
Credit: www.shindigz.com
Available at Halloween Mall
If you do not want to fuss with curling your daughters straight hair or spraying it with red hair color that will bleed onto your pillows (despite washing her air before bedtime), then a Merida wig will make hair styling a breeze.
Bow and Arrow Set
Her aim is true as Merida is the best archer in the kingdom. Have your daughter carry and play with this bow and arrow set. She can scare away anyone who tries to get into her candy stash!

The accessories that come with the Deluxe Disney Store costume can also be purchased separately.

Disney Pixar's Brave will be a hit among girls everywhere, so you will need to buy your costume and accessories early. Have her dress up in a Princess Merida Halloween costume this fall and show everyone how brave she really is.