If you do business online with a website, you probably know how important detailed website statistics can be. You need to keep track of...
How well your website is doing for traffic
How many visitors are you getting each month? Each day?
How visitors find your site
Where are your visitors coming from? It's important to know this so you can adjust your marketing plans accordingly. If you know that a large percentage of your visitors are coming from a specific website, what are you going to do? Increase your marketing on that site, of course! It's obviously working.

Where it ranks in the search engines
If you want to do well, you should make sure your site is on the first page of every search engine. It sounds hard to do, and it takes time and dedication. But it's worth it.

Who are your link partners? What are their sites about? Google looks at this and calculates your rank accordingly. You should too.

How important Google and Alexa think it is
Google has a "PageRank" system that ranks a site's importance from 0-10. The higher the better. Alexa has a ranking system as well - except you want a very low rank with Alexa. For example, Facebook's rank is 3. A typical site may rank in the millions. Building links will help with both ranking systems.
If you are serious about running an effective website, you really need to look into a sweet little application called Rage Domainer.
Domainer is a Mac application that reveals many little details that are so easy to miss when working with website marketing.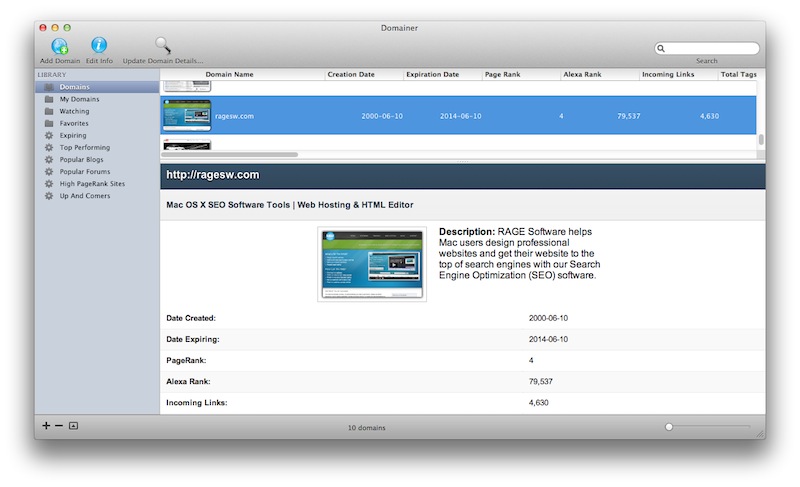 Domainer has a free and paid version. The free version will let you track up to three domain names. This is fine for most people. However, if you want to track an unlimited number of domains, register the software. That costs $39.95, but it may be worth it for some people.
Overall, I have been very pleased with the software. It has given me new insights into my web marketing, and has actually helped me make more money by showing me where I'm doing well and where I need improvement.
If you want to check out Domainer, you can download it by using this link: http://www.ragesw.com/products/domainer/download/