Believe it or not, there are plenty of software developers out there anxious to let you try out their software, permanently, for free. Sometimes these are new releases, sometimes they are testing out new features, and sometimes they are just giving the software away for the heck of it, but in any case, you can benefit. While some of these developers do not offer free technical support, some do . . . and at least you get to try software out to decide if it or something like it is useful to you--and keep it!

This is not shareware software, where you have a trial period, or have features disabled and have to pay later--this is full-featured software, given away, every day, absolutely free! So here's how to find out what's being given away--whether it's an office suite, a video or audio ripper or converter, a business application, a database manager, a communications program, a novel or screenplay organizer, even games--whatever you want, or need, it's bound to come up eventually!

The best of these sites is GiveAwayoftheDay. Each day (with a few days of the year when they are down for site maintenance excepted), this site gives away full-featured software. Most of the developers on this site do not provide technical support or upgrades, but hey, it's free! I've gotten all kinds of programs from them--everything from encoders to DVD burning software to datasbase programs to business applications.

There's one trick to know about GiveAwayoftheDay--you must download and install the software before midnight Pacific time each time. There are no exceptions to this rule, so make sure you have time to do the installation before the cutoff time, or you will be very disappointed!

The great thing about this site is that there are comments underneath each program, where people will post their opinions, problems and solutions, free alternatives, and much more information that will help you decide whether the program is useful to you. I check the site each morning when I get to my computer, and by that time there are dozens of comments that help me decide whether a particular piece of software will suit me.

They also keep archives of previous programs and comments, so that you can see what has been given away in the past, and since some programs are given away more than once, you will be able to benefit from previous comments. In addition, they have a forum, where people suggest programs they need, offer tips and tricks for working with programs already given away, and more. Their sister site has new games each week (and has an independent forum where more free games are posted). Although I don't play many games, I have really enjoyed the ones I have downloaded!

As you can see, below, you can easily add their ticker to your blog or website, and let other people know about this great site and their amazing giveaways. (If you return to this article on another day, you will see that the ticker changes daily, without your needing to do anything!) There is also an RSS feed so that you'll never miss a giveaway! Their software is carefully scanned and guaranteed to be virus- and spyware-free.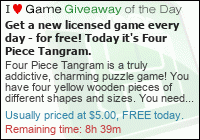 One thing I recommend is using an installer to keep track of changes to your registry. Chances are you'll be installing a lot of software, and if you should encounter problems you'll be able to undo the installation if necessary. Although I've uninstalled very few programs that I have gotten from this site, you'll keep your computer in better condition with a third-party installer/uninstaller.
Free Software: How to Save $5000 on the Most Popular Software Titles
Amazon Price: Buy Now
(price as of May 30, 2016)
There's nothing better than free!