What Should You Buy Your Friends and Family for Hanukkah 2018?
Hanukkah begins on December 2, 2018
Updated November 2018
The Festival of Lights lends itself to many different Hanukkah gift ideas for everyone on your list. With eight nights of gift giving, you want to give a few small gifts, but also some larger ones that will be memorable long after the wrapping paper and boxes have been recycled.
What you choose to give depends on your budget, the age of the person and what their needs are. It is a great idea to give a Hanukkah gift with a Judaic theme. You can get popular toys and games anytime, but Hanukkah gifts that are Jewish will have more meaning.
Family Gifts for Hanukkah
If you want to do something that is very kitschy, then this is the gift to give on family night.
Available at Kohl's in sizes infants to Plus Size
Everyone can use a new set of pajamas, especially kids who grow up so fast. This set of matching Hanukkah pajamas is for everyone on your list, even your cat and dog! All sizes are available, including infants, toddler and X Large.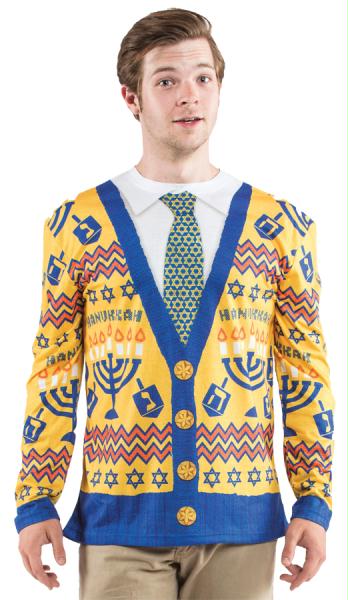 Available at Halloween Mall
Another fun gift for the family are ugly Hanukkah sweaters. This is just one of over two dozen styles that are available.

Available at Party City
Ugly Hanukkah sweaters also come in cardigan styles as well.
Dreidel leggings are made of
a polyester/spandex blend. They come in sizes Small to X-Large.
Gift for Cat Lovers
Happy Hanucat Headband
Do you have a cat lover on your Hanukkah gift list? This adorable "Happy Hanucat" headband is just what she will love to wear!
Infants and Toddler Ideas
Credit: www.amazon.com
When it your child's first Hanukkah, she has no idea what is going on. Parents can still have them get into the spirit of the holiday with festive Hanukkah bibs and onesies.
Credit: www.amazon.com
For little girls, this Hanukkah hair bow will look adorable on her head.
Credit: www.amazon.com
For toddlers, these aleph bet blocks make building towers fun while exposing children to the Hebrew alphabet.
Gifts for Preschoolers
Credit: www.amazon.com
Preschoolers love getting gifts, and you can wow them with either a small or a large one. One Hanukkah gift idea that is sure to leave an impression is the KidsKraft Chanukah gift set. This wooden set has all of the religious symbols of the holiday-a Chanukiah (Chanukah menorah), a dreidel, six coins (gelt), two potato latkes, a frying pan, a spatula and a bag to in which to store everything. No need to worry about a child during her tiny fingers lighting a real Chanukiah; she can simply "light" this one while her parents light the real ones each night.
Credit: www.amazon.com
Fisher Price makes a Little People Hanukah Play Set. It contains six Little People and one dog, a kitchen, and a Chanukiah that lights up and plays music. If your children enjoy playing with other Fisher Price play sets, this one will also delight them. I know my children loved this set when they were younger!
Credit: www.amazon.com
Do your children love puppets? The these Hanukkah finger puppets will make a nice small gift for one of the Hanukkah nights. Fun for fine motor practice and imaginative play.
Credit: www.amazon.com
These are not Legos, but a brand called Deforma Building blocks. Younger children can work with an adult to build their own Hanukkah menorah, while older kids can do this on their own.
Credit: www.amazon.com
The classic Memory game also has a Judaic twist in this version. Children learn about the different Jewish holidays while playing.
Last, there are a wide variety of Hanukkah books that would be perfect for the preschooler on your gift list.
Gift Ideas Children Ages 7-12
The tween years are a time when children are learning more about Judaism while in Hebrew School. There are many unique ideas that will certainly be popular with children ages seven through twelve.
Credit: www.amazon.com
One of the most popular family games to come around in the past few years is Apples to Apples. This game is an open ended one where almost anything goes. There are two Jewish versions of Apples to Apples-the Junior set for ages seven through twelve, and another version for ages twelve and up.
Credit: www.amazon.com
Magical Mitzvah Park is another Jewish themed board game for children in this age group. Get onto a dreidel and be the first person to make it through the magical park.
Credit: www.amazon.com
For the crafty children you know, there is an assortment of Jewish themed scrapbook paper, stickers and foam shapes to create a unique Jewish themed scrapbook. Fusion beads also come in Star of David shapes, and keep a child busy for hours. There are even aleph bet bead kits for children to make jewelry with their Hebrew name.
Hanukkah Gift Ideas for Teens
Teenagers are some of the most difficult people to buy any kind of present for. Fortunately, there are some suitable ideas for the fussy teens on your list.
Credit: www.amazon.com
Many teenagers use their Gift of Israel money to travel to the Holy Land. Giving them the Rosetta Stone Hebrew edition will help them converse in Israel's native tongue.
Credit: www.amazon.com
Taboo is a game that has been around for over twenty years. There is a Jewish edition of this game, where players have to guess the word without the other person using the obvious (and taboo) words. This game is suggested for teenagers sixteen and up.
Hanukkah Gift Ideas for Adults
Even the person who has everything can enjoy a Hanukkah gift basket filled with all kinds of delicious Jewish food. A tower of kosher goodies is something any adult would appreciate.
Credit: www.amazon.com
Not for the faint of heart or those who are easily offended, this extra set of Cards Against Humanity is for those who are Jewish.
Credit: www.amazon.com
Judaic jewelry is also another gift option. Necklaces with a mezuzah, Star of David, or hamsa make a lovely present for both men and women. These can be found in both gold and silver, as well as multi gemstone.
Yiddish was the language spoken by our ancestors who came to America. There are many books featuring the history of Yiddish and the uses for it, and how many of the words have crept into American culture. These books have a lot of old fashioned humor that older adults will find enjoyable.
Credit: www.amazon.com
If you need to give a small gift to someone who is Jewish, this coffee mug filled with chocolate gelt is a suitable gift idea to give to someone.
Credit: www.amazon.com
If the person on your Hanukkah gift list has a sense of humor, then there are plenty of novelty Hanukkah gift ideas, from hats to ties that would be sure to please.
There are plenty of unique Hanukkah gift ideas for everyone on your gift list. The most difficult decision will be which ones to choose!