Sell Your Books on eBay and Make Money Working From Home
Books are a very popular item to buy and sell on Ebay. Discovering what will sell and where to find these books cheaply so you can work form home and make a big profit is easy if you follow these guidelines.
Bring a notebook and pen to Barnes and Noble or Borders and go to the children's section. Look for the books that are on the shelves that are in series, like Junie B. Jones, Magic Tree House, or Diary of a Wimpy Kid, and write down all of the series that you see.
At home, do a completed Ebay search on each series. For example, type in "Lot of Junie B. Jones Books Barbara Park". A list of all of the recent auctions of the last two weeks will show up. In the upper right corner, you can select a tab that will let you see the sales from highest to lowest price. Green means that the item sold, red means that it did not.
This step is valuable because you can compare the auctions that sold for a high price
Credit: www.amazon.comversus the ones that went for less money or not at all. Look carefully at how the lot was listed, how much was the shipping, compare the pictures. This will give you an idea of what to write and how to take your picture.
Note-it is against Ebay policies to plagiarize someone else's auction wording or stealing their pictures. This can lead to your auction being ended and putting your account in jeopardy.
Armed with your information, you can now look for gently used books to sell.
A great place for a large selection of books are Friends of the Library book sales. These fundraisers depend on patron donations, and in turn they sell books at very discounted prices.Libraries hold them several times a year. Generally, children's books sell from 10 cents to 50 cents. You can find out about sales at www.booksalefinder.com
If you attend one of these sales, bring your own bags to fill. Most booksellers ignore the children's book section, so if you do not want to become a "friend" of the library and attend the preview sale, there will still be plenty of books the following morning.
Search for your titles and if you spot one, throw it into your bag. Before you check out, look through each book you've selected and make sure there is no water damage, pen marks, and big bends, tears or wrinkles. While minimal wear or a name inside is fine, too much wear will not get you much money.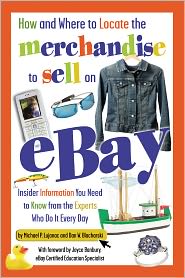 Yard sales are another great place to find gently used
children's books. Many times children will love a series, and their parents will buy all the titles. Anywhere between 25 cents to 50 cents is fine to pay. If the books are fifty cents, ask if they will take 3/$1.00. Oftentimes, people will say yes. Again, before you purchase anything, go through the books carefully.
Thrift stores also carry books. The price varies from store to store, so you will have to either call and ask for the price or visit them yourself. You may find a rare gem or to if you know what to look for.
Using these guidelines, you can find plenty of books to sell on Ebay.