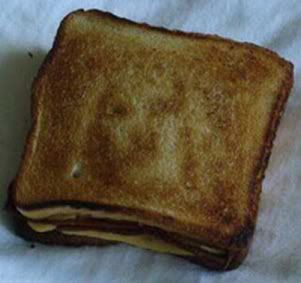 Have you ever wondered how to make a Grilled Jesus sandwich? With the Jesus apparition burned right into the toast? Well, look no further, here are the instructions.
Things You Will Need
Bread
Only the finest Holy bread will work.
Note: Not using Holy bread will lead to the Jesus apparition not showing correctly.
Cheese
Divine cheese works best. Well, actually just any medium cheddar will do, but if you can find divine cheese definitely use that!
Margarine
I suggest "I can't believe it's not Butter", but you will believe in Jesus when you see him burned into your toast.
Jesus pan
The one, the only, the original Jesus Pan. You've seen it on TV, you've seen the imitators, get the real deal. 2 Jesus Pans for $29.99? Can you see JesusWow! They sell themselves. Just do a search on Google to find the Jesus Pan.
Step 1
Butter the Bread
Well, actually, what you'll be doing is "margarining", but that's not a word. Butter one side of each piece of Holy bread.
Step 2
Cut the Divine Cheese
Literally! Cut the cheese into thin or thick slices, depending on your preference, and place on the non-margarined side of the Holy bread.
Step 3
Grill Jesus
Place the bread in the pan, butter side down. Grill Jesus until lightly brown. Too light and you won't see him, too dark and you won't either.
Get more info at
GrilledJesus.com
!
Tips & Warnings
You may offend Christians.