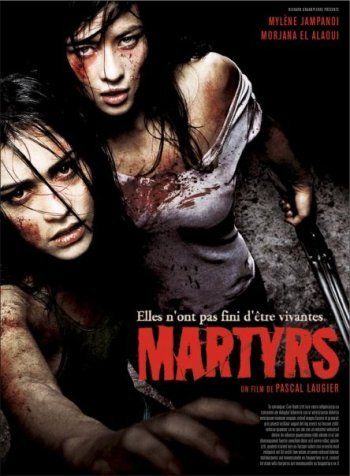 Are you one of those frequently compaining about the lack of really scary and shocking horror films? Does it seem ages ago since you last saw a horror film that almost made you wet your pants? Does the Saw franchise seem like a walk in the park to you? Then this film is for you.
Martyrs is a film not for the faint of heart. While this is something you might have heard a lot, Martyrs more than delivers on that. Even loyal, horror fans that thought that they had seen everything and wondered whether they had been desensitized to horror and violence, will clearly have trouble enduring some shots.
French director and writer Pascal Laugier created a film mostly violent, not splattery or gory. While there flows plenty of blood, the distinct trait is violence, even in the most bloody parts of the film. So you are mostly shocked, rather than scared. The shock from some extremely, mercilessly violent scenes felt like a bazuka rather than a fist in the stomach. The shock I felt is beyond any words. The plausibility of many shots is masterful, it almost looked like I was watching a snuff film, like all these horrible stuff were really happening.
The two lead casts perform excellently. French-Chinese actress Mylène Jampanoï's exotic, adolescent like beauty prevails upon the first part of the film, while Morjana Alaoui has a more active role in the second part. It is virtually impossible not to feel for both of them, since it looks like they are literally tortured. The dark and ominous cinematography, the oscar deserving, disturbingly realistic makeup and prosthetics, and the attention to detail of the general production all add to a lewd enough film to mess with your head. So I suppose that it would be most appropriate to provide a warning : if you cannot stand a Saw film or usually close your eyes in violent/bloody shots of regular american films, do not even think about watching Martyrs! You have been warned. Rating : 4.5/5 (near masterpiece).