Neil Young
Neil Young is one of the most important musical artists of his generation. He has written and performed some of the most original and memorable music in a career spanning almost 5 decades and over 40 albums. Young's music has spanned a number of genre's and styles, whether it's gently strummed acoustic folk, country influenced rock with Buffalo Springfield, or the distorted garage rock with long time band Crazy Horse, Young's music has always been highly original and has artistic integrity that few can match.

Neil Young is a great live musician; his music has taken many unexpected paths which have often left the audience guessing what his next move might be. This Lens takes a look at some of the Neil Young live concert films.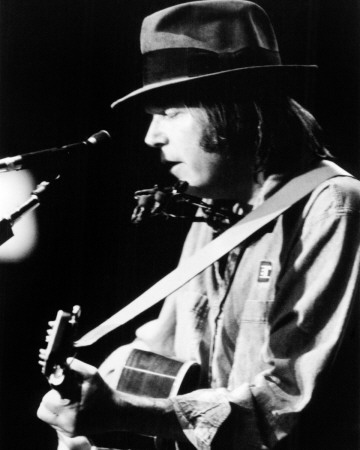 Neil Young and Crazy Horse - Rust Never Sleeps
Rust Never Sleeps is one of the all time iconic concert films. Recorded in 1978 at the Cow Palace in San Francisco, Rust never sleeps features Neil Young at the top of his game. The concert begins with a 6 song solo acoustic set from Young; the songs are beautifully performed against a backdrop of oversized amplifiers and kooky stage fit out. Highlights include the hauntingly beautiful "Sugar Mountain" and paired down renditions of "I am a child" and "comes a time". Young closes the acoustic set with the iconic words "My My Hey Hey, Rock and Roll is here to stay". Given this concert was during the height of the disco era that statement was not just a signal of what was to come but also a declaration that rock music would not surrender and would never die.
The remainder of the show is an assault of garage rock as Neil Young and Crazy Horse rip through an eclectic mix of songs from Young's back catalog, starting with "When you Dance" from After the Gold rush album. Highlights of the electric segment include heavy but faithful renditions of early classics "Cinnamon Girl" and "The loner", an epic version of "Like a Hurricane" and the punk assault of "Sedan Delivery". The concert DVD closes with "Tonight's the Night", a tribute to the late Danny Whitten and Bruce Palmer, it is a perfect way to close the show as Young rips of one solo after another over the top of Billy Talbot's incessant baseline. Make no mistake, this is a landmark concert film. If there is one Neil Young DVD to own it is this.
Rust Never sleeps is one of the most influential concert films recorded and the most iconic of all Neil Young DVDs. It captures Neil Young both as a solo artist and with Crazy Horse. If there is one Neil Young DVD worth owning it is this.

DVD Set list:
Neil Young Solo - Sugar Mountain, I Am a Child, Comes a Time, After the Gold Rush, Thrasher, My My Hey Hey (Out of the Blue).
With Crazy Horse - When You Dance I Can Really Love, The Loner, Welfare Mothers, The Needle and the Damage Done (solo), Lotta Love, Sedan Delivery, Powderfinger, Cortez the Killer, Cinnamon Girl, Like a Hurricane, Hey Hey My My (Into the Black), End credits: School Days (underscore), Tonight's the Night.

The DVD is recorded in Dolby Digital 5.1 surround sound and clocks in at 103 minutes
Neil Young & Crazy Horse perform
Neil Young - Heart of Gold
This Neil Young concert film was released in 2006. Neil Young having just survived a close scare with a Brain Aneurysm performed two sold out concerts at Nashville's Ryman Auditorium in the summer of 2005. The concert was captured on film and the result is "Heart of Gold", directed by Jonathan Demme. The concert DVD features a number of new songs from Young's Prairie wind album and an eclectic selection of Young's more gentle songs from his extensive back catalog. Backed by a host of top-level players and long-time friends of Young's including Ben Keith, Rick Rosas, Tim Drummond, and Spooner Oldham, among others. Standout tracks include a lovely "This old guitar" with Emmy Lou Harris and a stunning rendition of "Four Strong Winds". The DVD is 103 minutes long and comes in Dolby Digital and DTS.
DVD Setlist: The Road to the Ryman, The Painter, No Wonder, Falling Off the Face of the Earth, Far From Home, It's a Dream, Prairie Wind, Here for You, This Old Guitar, When God Made Me, I Am a Child, Harvest Moon, Heart of Gold, Old Man, Needle and the Damage Done, Old King, Comes a Time, Four Strong Winds, One of These Days, The Old Laughing Lady (End Credits). DVD Extras: Bonus song: "He Was the King" Rehearsal diaries, narrated by director Jonathan Demme Six in-depth features: Fellow Travellers, Cruising with Neil, These Old Guitars, Cruising with the Players, Finishing Touches, Warming Up With Neil and the Jubilee Singers Blast from the past: 1971 Neil Young performance on the Johnny Cash Show.
Neil Young - Live at Red Rocks (w Friends and Relatives)
Filmed and recorded in 2000, this concert film captures a different side to Neil Young somewhere between his gently strummed solo works and the distorted garage rock with Crazy Horse. Young plays to a packed out crowd at the Red Rocks Amphitheatre in Colorado battling terrible weather and torrential rain.
The film is unique not just for the weather conditions that Young and Band play in, but also because of the song selections which combine classic with several obscure numbers. Included in the set list are several seldom played gems including Motorcycle Mama, Winterlong, Bad fog of loneliness, Razor Love and a banjo version of "Mellow My Mind".
The band is fantastic with long time friends Ben Keith, Jim Keltner, Spooner Oldham and Donald "Duck" Dunne providing Young with the perfect backing to explore the vast corners of his back catalog. There are many highlights of this DVD and long time Neil fans will be thrilled to see three cuts from Young's eclectic masterpiece "Tonight's the Night" included in the set list.
Overall this DVD is a very worthy addition to the Neil Young live concert cannon and perhaps more than any other DVD showcases Neil Young's incredible songwriting versatility more than any other. The DVD clocks in at just over 2 hours and comes in Dolby Digital 5.1, a DTS 5.1 and a stereo mix. The overall sound is a little reverby but in general pretty good considering the concert was recorded outside in awful weather.

DVD Setlist 1. Intro 2. Motorcycle Mama 3. Powderfinger 4. Everybody Knows This Is Nowhere 5. I Believe In You 6. Unknown Legend 7. Fool For Your Love 8. Buffalo Springfield Again 9. Razor Love 10. Daddy Went Walkin' 11. Peace Of Mind 12. Walk On 13. Winterlong 14. Bad Fog Of Loneliness 15. Words 16. Harvest Moon 17. World On A String 18. Tonight's The Night 19. Cowgirl In The Sand 20. Mellow My Mind
The best may still be to come!
Neil Young has a long history of making great music which has never got around to being released. In 2009 Young finally released the first installment of the long-awaited Archives. A 20 year project in the making the Archives is massive in scale documenting Young's career in exquisite detail.
In Recent years Young has recorded and re-released a string of concert films. The following are highlights:
Neil Young - Trunk Show

Directed by Jonathan Demme the Trunk Show is a concert film of Young's 2007 Chrome Dreams tour. The concerts received universal critical acclaim and featured Young and Band at the top of their game. The movie contains six unreleased songs as well as powerful versions of Young classics. The Trunk show has featured in cinema's throughout the US and Europe and widely rumoured to be released on DVD and Blue ray at some point in the future.

Neil Young and Crazy Horse - The complex sessions

Directed by Jonathan Demme this DVD features Neil Young and Crazy Horse in studio at the time of the brilliant "Sleeps with Angels" album. To date this recording is only available on VHS, but is expected to be released on DVD at a future date.

Neil Young and Crazy Horse - Weld

Released in 1990 at the time of the Gulf War conflict this album features Neil Young and Crazy Horse at their most raucus. The guitars are huge and Young rocks harder than ever before. The concert is available on CD and VHS but as yet has not been released on DVD.