No matter what your injury is or how serious it is, these tips can be applied to help you make the speediest recovery possible and return to the playing field in record time. Read on to learn how to overcome any sports injury and get back to doing what you love to do.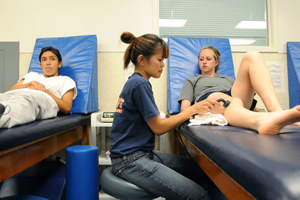 It's important that you do what your doctor tells you. They have your best interests in mind and they want you to recover as quickly as possible. Don't think they are trying to keep you from getting back on the playing field. Oftentimes they are thinking about your health when your playing days are over and when you an adult. Therefore, you have to work with them to ensure your injury is properly healed and that you are 100% before you return to your sport.
You don't want to rush the recovery or rehabilitation aspect of your recovery from your injury. You want to push yourself, but you don't want to overdo it too soon or try to return to your sport too soon. There are a lot of factors that go into how fast an athlete recovers and some athletes do recover faster than others. However, there are certain limitations that every athlete has no matter how ready they think they are to resume playing their sport. Don't try to play in a football game a week after you've had ACL reconstructive surgery or don't try to play baseball two weeks after having shoulder surgery for example. Depending on what your injury is, you may need all the time the doctor projects you will need to let your injury properly heal.
If possible, utilize ultrasound treatments to help your injury heal faster. Using a ultrasound machine will help get fresh blood and oxygen to your injured area and will help facilitate a faster healing process.
You should work other parts of your body that are not injured. If you have a lower body injury, then you should be lifting and training with your upper body. What many athletes don't know is that this can help speed up the healing process in your injury and help an athlete make a faster than normal recovery.
You need to keep ice on the injury as much possible. This will help keep the swelling down around the injured area and help relieve any pain you may be feeling. Ice also helps speeds up the healing process. Aim to ice the injured area 3-6 times a day for 15-30 minutes.
Massaging around the injured area can beneficial as well. Massaging can help promote more blood flow to the injured area and can help break up scar tissue that may have formed from the injury.
These tips will help you recover from an injury faster and get back on the playing field in no time.
Good Luck!