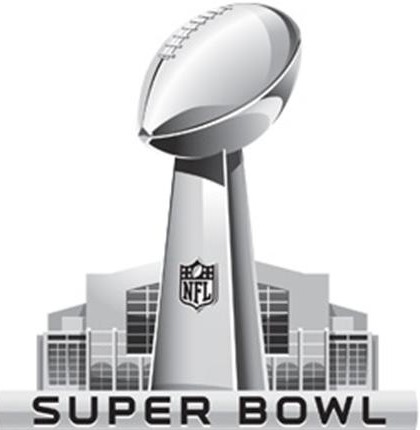 The Super Bowl has become a massive phenomenon across the United States. It is no longer merely a football game but an event that the entire country partakes in. The Super Bowl is a the National Football League's championship game and is contested between the NFC Champion and the AFC Champion. However, the game itself no longer seems to matter much anymore.
The Super Bowl is watched around the globe but mainly draws large North American audiences. In terms of global appeal, it is the second most watched annual sporting event in the world, only the UEFA Champions League Final has a higher audience. However, in the United States it draws an average over 100 million viewers and Super Bowl XLV played in 2011 had an average of 111 million viewers and is the most watched televised event in American history. It beat the record held by the previous year's Super Bowl at 109 million viewers! The popularity of the game has turned it into a marketing gold mine as it possesses immense commercial viabilty.
TV commercials have become as a part of the experience as the game itself! With the game attracting such a massive live TV audience, commercial time is quite expensive for sponsors and advertisers (costing over a $ 1 Million USD for a 30 second time slot). With sponsors paying such high advertisement fees, they ensure to use a variety of tactics to make their commercial stand out above the rest. They will often use humour, celebrity endorsements, or sexuality to sell their product. TV commercials are as discussed on news outlets and talkshows across the country as the game itself. Commercials are of great interest to the spectacle that is the Super Bowl, as it attracts many viewers who may not watch a traditional American football game.
It is not just the commercials or the game that attracts people to watch the Super Bowl. The halftime show has become a massive part of the NFL's preparation for the Super Bowl as it often overshadows the game. The halftime show is usually performed by a big name band or singer. Past acts to perform at the Super Bowl include Madonna, The Who, Justin Timberlake, Janet Jackson and many others. While the show usually goes on without any issues, there have been past controversies that made headlines across the world. The famous "wardrobe malfunction" involving Justin Timberlake and Janet Jackson being the one of the biggest.
The Super Bowl is an event that could be enjoyed by people from all walks of life. Whether you are a football fan or not, the Super Bowl has become much more than a game and is sure to keep you entertained! This year indulge in the festivities and make the most of Super Sunday!