The legendary Jaguar E type celebrates its 50th birthday
So, to commemorate anniversary of on of its most popular cars Jaguar has decided to release a limited edition remake. Jaguar has collaborated with Sweetish design firm, Visualteck, to create the Growler. The Growler is the modernization of the 1961 Classic Jag E type. Currently, there is only plans for a limited release. Each car is hand-made and takes up to 6 months to complete with only about 4 cars made simultaneously[90]. The first Growler is expected to be avalible by mid summer, 2012.
Credit: http://www.newstechnologyautomotive.com/the-jaguar-e-type-concept-build-from-the-jaguar-xkr/growler-jaguar-e-type-concept-7
The Jaguar E-Type Growler is powered by a 5.0-litre V8
The Growler is based on the Jaguar XKR. The XKR's engine has been modified for the Growler to produce 600 horsepower (up from 510hp.[91]) and could hit 62mph in under 4 seconds.[90] The Growler's chassis is made up of carbon fibers which will then be glued to its composite body. Two tubular frames will then be Bolted to the front and back to hold the steering, transmission, suspension and engine in place. The total weight is around 3400 lbs. The price for this remake of the E Type is expected to ring in at a whopping $700,000. Also, if there are only a few orders the price will double to around 1.4 million! If you ask me your better off just getting the new Jaguar XKR-S.
Credit: http://www.carpictures.com/photo/viewer/11BMF143505412AC
The Jaguar E-Type has been consistently rated at the top of almost every Top Most beautiful cars ranking scince its birth.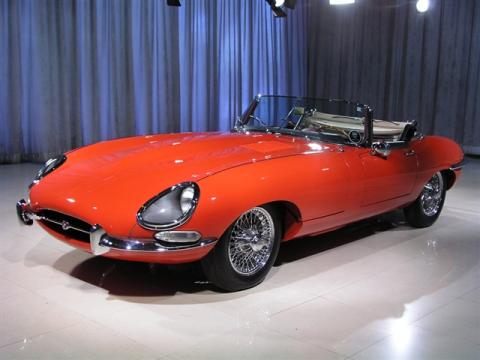 Credit: http://www.carpictures.com/photo/viewer/11BMF143505412ACSo why not pay homage to this once iconic British car? The Jaguar E-Type ran from 1961-75 and during that time was one of the most popular and influential cars; and was dubbed "one of the greatest thing Britain has ever made," by Top Gear's Jeremy Clarkson.
During its day, the E-type was one of the best cars around, but not only as far as looks and speed. It was also surprisingly affordable.
Unfortunately, the new Growler E-type is only for the rich. At nearly 3 quarters of a million dollars you're not really getting your money's worth. The new Nissan GTR goes for 1/10th of the price and would dominate the Growler in a race. But, nothing compares to the prestige of driving an e-type Jag. Hopefully, the orders will pick up and they can drop the price so at least your normal average rich guy can afford one.