The economic uncertainties that we face today affect almost everyone and every business on the planet. If there is one profession that's defying these financial blues, it would be Soccer, and you will find that many players receive ridiculous sums of money 'just to kick a ball.' Of course, we can talk about the entertainment value and how much money these players create for the game and how they deserve their share of income, but I'll save that discussion for another day. For now, let's have a look at some of the best paid soccer players on the planet.
Please note that only salaries from playing Soccer have been noted, and do not include sponsorships or image rights etc.
Samuel Eto'o
Club: Anzhi Makachkala
Salary: $550,000 per week
Not many people had heard about this Russian team before this Summer. In fact, they had only been founded in 1991. But the team was bought out by billionaire Suleyman Kerimov, and the spending spree started. Before Eto'o arrived, Brazilian great, Roberto Carlos, and ex-Chelsea winger Yuri Zhirkov were already on the team, Carlos as captain.
Eto'o was bought for a reported $36 million from Inter Milan, and commands a salary of over $28,000,000 a year, making him the world's best played soccer player. Wow!
Cristiano Ronaldo
Club: Real Madrid
Salary: $365,000 per week
Even though Cristiano Ronaldo wanted to join Real Madrid from Manchester United, and even though both parties accepted the wishes of the player, Real still had to pay a world record £80 million to United. Money worth spent? Real certainly think so, with their own estimates suggesting that Ronaldo will make them several times over the figure they paid, through television rights, sponsorship and merchandise. After all, when you have the one of the best players on the planet, people will pay to see him.
If you feel that $19,000,000 was quite a lot, don't forget the sponsorship deals. Ronaldo actually earned double that figure for the last financial year, with endorsements with companies such as Armani, Nike, Coca-Cola and Castrol pushing up his earnings.
Yaya Toure
Club: Manchester City
Salary: $347,000 per week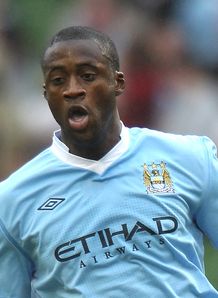 When Manchester City was bought by the Abu Dhabi United Group in 2008, only a few fully understood the potential impact it would cause. Fast forward today, and the club has spent in excess of over £200,000,000 on recruiting players to help establish Manchester City as one of the premier soccer teams of the world.
The only non-forward in the list, Yaya Toure is a solid, if unspectacular, player that City required, but more spectacular was his salary. At an eye-watering $347,000 a week, Toure instantly became the highest earner in the Barclay's Premier League, and he wasn't even a forward or goal-creating midfielder. A princely wage for someone whose main job is to stop the opposition.
Lional Messi
Club: FC Barcelona
Salary: $300,000 per week
Earning less than Ronaldo, but having won more Champions League trophies, Lional Messi must still be pretty happy with life, being widely regarded as the world's best soccer player. It wasn't always guaranteed this way however. His nickname, ''The Flea' was given because Messi was unusually small for his age. He was actually diagnosed at age 11 with a growth hormone deficiency, and many were unsure if he could continue to play soccer. He was part of Newell's Old Boys, and River Plate showed interest in him, but could not afford the money to pay for the required treatment of his growth deficiency. Enter Barcelona Sporting Director Carles Rexach, who had been made aware of Messi's talent. Legend has it that Rexach had no paper at hand, and so used a paper napkin to write a rough contract, which Messi accepted. It turned out to be one of the best decisions in soccer history.